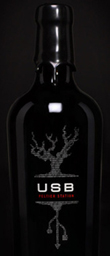 In 2005, the EU and US reached a bilateral accord to end a round of negotiations that had lasted twenty years. One of the significant parts of the agreement was that American wines could no longer use place names such as Champagne, Chianti, or Port on new wine labels (for the complete list, see the press release).
While labels that had used the terms previously were grandfathered in, what's a new wine label to do? Such was the problem that confronted Peltier Station, a winery in Lodi that wanted to release a port-style wine from Zinfandel grapes last year. They knew they couldn't call it "port" so they decided to call the wine simply USB hoping that consumers would make the connection (aha!) with that and the USB ports found on computers. Just to drive the point home, the back label reads, in part "United States Bureau for trade signed an im____ant agreement with the European Union to protect ____ugal's geographical indication of this type of wine…."
Peltier Station's idea was clever and, after getting a mention on wired.com, the wine sold rapidly. But is there an equally clever name that producers of port style wine could call their product in general? Hit the comments with your thoughts. The top suggestions will be selected for your voting and the winner will win a bottle of USB ___, courtesy of Peltier Station. Take your time to think of an idea this week and next Monday; we'll start the voting next Tuesday.