Earlier this year on this blog, we put our heads together to try to come up with a name for port style wine, made in America. Well, thanks to a new bilateral accord with the EU, Australian winemakers found themselves in a similar situation of needing to find a new name. And here's what they came up with: nothing. That's right, they will scrap use of the word "port" and describe their fortified, port-style wines as either "vintage" or "tawny," depending whether it is from one vintage or a blend of several and whether it is aged in bottle or in barrel.
However, other fortified wines whose names conflicted with European place names have gotten new names. Heretofore, when ordering a glass of sherry style wine made Down Under, the proper term to use is Apera, which is a gentle riff on aperitif. And the wines formerly known as Tokay, a name that clashed with the sweet wine from Hungary, will now be known as Topaque. Eegad, that sounds like something from a medicine chest, not a liquor cabinet.
But if the Australian group for renaming fortified wines had listened to one suggestion they might have come up with something zippier. At a recent tasting, a non-Australian member of our group described these unctuous sweet wines as "lickoffable," as in you want to drizzle them on your partner's body and lick it off. Yikes! What a way to boost…sales!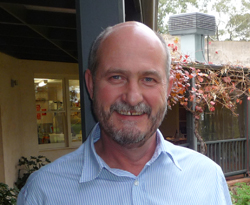 James Godfrey (pictured right), winemaker for thirty years at Seppeltsfield in the Barossa Valley, told me that he saw the new names as an opportunity. The term sherry has "a lot of baggage," he said, elaborating that the new name will give them an opportunity to energize their new category of aperas, including dry, medium dry and medium sweet (which replace Fino, Amontillados and Oloroso), with younger consumers.
To find the names, a trade group generated about 200 names that could still be trademarked and then ran them by some producers, journalists, sommeliers and shop owners to come up with a list of 20 finalists. Then they surveyed 600 consumers to come up with the winners, apera, topaque, vintage and tawny. (If you want to see more on their strategy for developing the "New Era" names, check out their incredibly detailed report here as pdf.)
What do you think about the new names? A clean break or sour grapes? And what of "lickoffable"?
And stay tuned for part two of this exciting story to see what I call it when I actually taste a bottle of Topaque!