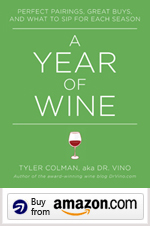 Time for a review roundup! Simon & Schuster, the publisher of my book, A Year of Wine: Perfect Pairings, Great Buys and What to Sip for Each Season, submitted it to the Amazon Vine program. In this program, Amazon sends review copies to some of their customer reviewers who may review it on the product page on Amazon. So far there are twenty-two customer reviews on the site; feel free to click through, check them out and add yours if you like.
As the author, it is slightly nerve-racking to see reviews coming in right at the point of sale. Fortunately the reception has been excellent. But this point-of-sale review is the future (er, present?) of online retail. As more wine sales shift online in coming years, particularly through the prospect of Amazon entering wine retail, wineries will have to adjust to this form of popular criticism, which could certainly serve as a sharp break with the dominant sales model of the past couple decades, selling wines based on the scores of critics.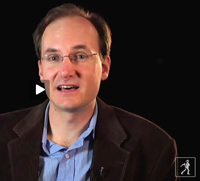 There's also a new video embedded on the Amazon page. In the still shot, my head looks like that member of the Jedi Council with the enormously long head. But if you roll it, things get proportional.
The book is now also available on the Amazon e-reader, Kindle!
To balance my appearance on Fox Business in December, I went on The Lionel Show on Air America last month. The segments are available here and here.
Wine & Spirits magazine wrote in February that ""this is a guide you'll want to keep near the top of your reference pile."
>Pittsburgh Post-Gazette flagged it on their Santa short list, calling it a "user-friendly book…[where] pairings can venture from the ordinary."
Joe Roberts, aka One Wine Dude, provides a soaring endorsement of the Year of Dr. Vino. Even his baby daughter had her own tasting notes on the book (or chewing notes). Thanks, Joe!
Wine in the 'Peg recommends A Year of Wine as their first wine book ever recommended! They dig the seasonal enjoyment of wine and say, "His writing style keeps your attention and he brings a fresh perspective to the topic of wine. I'm about a third of the way into it and am just loving it. It's a fabulous read and is highly recommended."
The Balanced Grad even stumbled on this wine book saying "has a great writing voice and talks about wine in a relaxed and totally unimposing way. He looks at wine from a seasonal approach, hammering down the point that wine should complement the mood and temperature of each season. I'm really into seasonal eating (hello, Animal, Vegetable, Miracle!) so I can't help but gravitate towards this idea…"
And don't forget my other book, good old Wine Politics: How Governments, Environmentalists, Mobsters, and Critics Influence the Wines We Drink, which got a very positive review in the Journal of Wine Economics.
Send in your comments on either book and we will link 'em up! See previous review roundups.