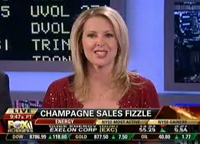 On Wednesday I went on Fox Business–for the second time in a week! The video for this segment is available (see it by clicking on the image at right).
We continued the discussion of "trading down" that we started last week, this time with a focus on bubbly, as the day demanded. Since I didn't get a chance to actually mention the Dibon cava brut reserve (about $11; find this wine) on the show, I'll do so here: it's some really easy drinking stuff, great for parties, or to accompany coconut fried shrimp, as I did recently (it sure beat Lipitor, which could have also worked for that dish). I brought the tasty Roederer Estate brut NV on the show as well (find this wine). And for those who really didn't want to trade down–or simply prefer fine Champagne in the winter, as I do, economic climate be somewhat damned–I brought the Larmandier-Bernier, brut, premier cru, blanc de blancs (about $45; find this wine). It's a fantastic example of a grower Champagne and one of my favorites.
So here's the big mystery question: since they didn't allow us to pour wine on the set, what bubbly was actually in our glasses at the end?