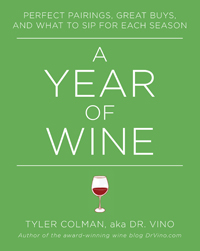 Thanks for the 94 comments sharing your favorite season for maximum wine enjoyment! I'm glad that the idea of changing your wine consumption with the seasons resonates so well with you since that's the subject of my next book, A Year of Wine: Perfect Pairings, Great Buys, and What to Sip for Each Season, due out very soon from Simon Spotlight Entertainment, an imprint of Simon & Schuster.
I assigned each commenter a number and generated three winners at random.org, the site that fills all my random integer needs. Three winners were selected to win a signed copy of A Year of Wine and they are:
Jim Boyce in Beijing, Wendy in Brazil, and Aletta in I'm not sure where!
Come on down! As for the rest of you, click through and check out the book's page on Amazon and see what the blurbs have to say from wine importer and author Kermit Lynch, wine authors David Lynch and Eric Arnold, and starting right fielder for the New York Yankees, Bobby Abreu. Who knows, maybe you'll want to preorder now? At their discounted price of $16 and change for this hardback book, it's less than a mere glass of wine at many NYC wine bars!