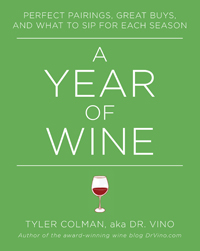 On November 11, an monumental event will occur: No, hopefully it won't involve a post-election court battle; instead, my newest book will be available!
The book is called A Year of Wine: Perfect Pairings, Great Buys, and What to Sip for Each Season. In it, a collection of essays and hundreds of wine recommendations, I encourage readers to break out of their chardonnay or cabernet rut and drink different by plotting a seasonal arc to their wine consumption. Simon Spotlight Entertainment, an imprint of Simon & Schuster, will publish the book, available November 11 at a retailer near you or on Amazon.
Epicurious flagged it on their short list of books for "thirsty readers" this fall.
If you like this blog, you will love this book! Why? Because I sold the book based on this blog. But since you readers were not there in the book to post comments, I recruited 13 of America's leading sommeliers to lend their voices to the book with their thoughts on seasonal drinking and perfect pairings.
I've just received some finished copies of the book and have three to sign and give away! All you have to do to qualify is post a comment on this posting saying which is your favorite season for drinking wine. And while "all" is certainly an acceptable answer, maybe there's one that brings particular pleasure to you.
Comments will close on Thursday and Friday I'll throw all the commenters' names in a hat and draw three names. So check back then to see if you are among the winners!
See the listing for A Year of Wine: Perfect Pairings, Great Buys, and What to Sip for Each Season on Amazon.