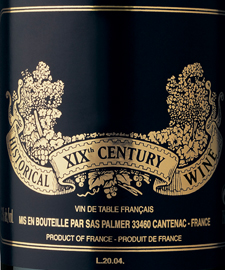 Vin de table lies at the bottom of the administrative heap in France: it's derided, dirt cheap and sold in supermarkets by the flagon.
Paradoxically, however, producers who dare to do something different are all-too-often ending up in this undifferentiated tier. (I detail more of the shortcomings of the appellation process in my book, Wine Politics.) Although quality producers in Italy make wine outside of the DOC system, the French have clung with surprisingly fervor to the AOC system as relatively few have left, in large part fearing the stigma of vin de table.
Chateau Palmer, the "super second" classified growth from Margaux, does not appear to fit the profile of one to buck the system. But that's what they've done with their "XIXth Century historical wine." Apparently, blending syrah from the Northern Rhone with Bordeaux was fairly common in the pre-appellation controllée era, particularly in weaker vintages, to result in a wine that had been "Hermitagé," so-called after the celebrated region that produces fine syrah.
To make the Historical wine, winemaker Thomas Duroux blends barrels that were otherwise destined for Chateau Palmer with no more than twenty percent syrah from "friendly" (but unspecified) sources in Hermitage, Cote Rotie, and Cornas. Although it has been produced only in 2004, 2006, and 2007, the label legally can't state a vintage as a vin de table, so instead they rely on the microscopic font of the lot number, 20.06 in the one I tasted last week. The wine is nothing like shiraz, cabernet, merlot blends of Australia, but it's not really very Margaux either since it is fuller and richer and showing more of the syrah character now. Of the 250 – 300 cases made, the chateau is holding back 50 cases for a minimum ten years to see if the wine changes back to show more of the Margaux character. Priced the same as Chateau Palmer ex-cellars, this isn't your typical vin de table.