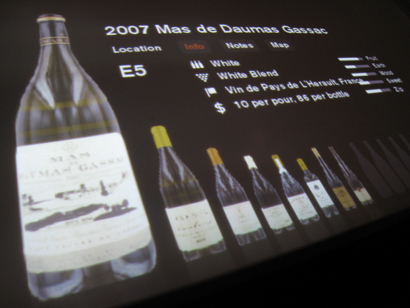 Strolling between the burnished steel Enomatic machines, with their bottles behind (plexi)glass and only dispensing nozzles poking through I thought the high-tech Clo wine bar seemed like a reasonable place. Selections included Dr. Konstantin Frank's Rkatsiteli ($5), Domaine Tempier rose ($9), Nicolas Potel Savigny-les-Beaune ($11), Chateau Musar 1990 white and red ($33 and $30 respectively), and Leoville-Las Cases 1989 ($47).
But then I realized those were for two ounce pours, not full glasses. And with machines doing the pouring, there would be no overfilling.
Located in the Time Warner Center on the fourth floor landing between Masa and Per Se, the space has walls with no ceiling. One long table runs down the middle and you can rub Brioni-clad elbows with the person sitting on the stool next to you.
The menu appears projected down from the ceiling onto the tabletop. Oddly, the focus is not sharp and I felt as if I'd had a few before I'd even ordered anything. A fancy camera sensor detects your finger tip and you can flick through the projection, sometimes flicking farther than you intended. (If you're into party tricks, spread all ten fingers over the menu and the sensor doesn't know which one to read.) The menu has a few descriptions including the some bars next to words "earth," "zip," and "sweet." One guy in my party remarked that this nomenclature was one of those things that is supposed to make it easier for you but in the end made him feel dumber since his wine was dry but the graphic was telling him it was medium sweet.
Fork over your credit card to start a tab and the server gives you debit cards and some tiny tumblers–perhaps they are a new line of Riedel, the "O" Thimble? They are so small that they make a two ounce pour look like a normal fill all while looking oddly like a wine shot glass. Anyhoo, to fetch your wine, take your tumbler to the Enomatic of your choice, insert card, punch number, receive wine. The pours are fresh and slightly chilled. Walk around with your friends but don't share samples with them since you risk not having anything left by the time you return to your stool.

Even though we didn't have any, apparently small bites are also available (no word on whether these pop out of the wall). And so is some extravagant merchandise such as the "dollypop bottle cooler" ($226), the handblown-to-order Mickey decanter ($495), or a "tripod" wine glass ($70 each).
Speaking of tripod, there was one area where I didn't have a firm footing: when the wine is self-service, do you tip? More photos after the jump!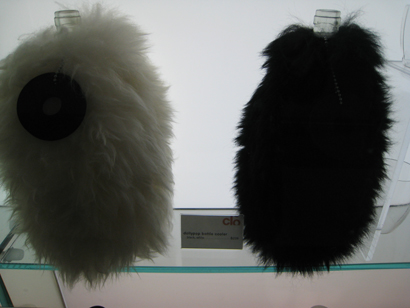 Fourth Floor, Time Warner Center
10 Columbus Cir., New York, NY 10019
212-823-9898