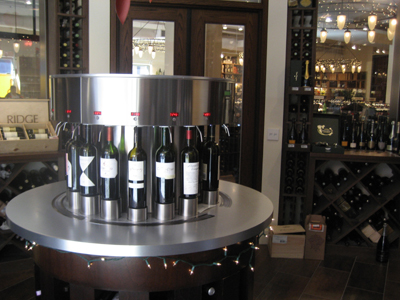 The fact that the enomatic, a $10,000 machine that spits out wine pours, has landed in New York is not news (unlike in Fairfax, VA): Union Square Wines installed six of the machines when they moved to their new location (map it) last summer. What's news is that it is the only store in New York to do so. Why?
You can largely thank New York's confusing laws on wine retailing, which prevent charging for wine samples among other things. In states with more permissive laws on tasting, enomatic machines can be spotted in wine shops that charge for samples. But in New York, charging anything for drinking on premises requires a different license. Thus it's hard to make for a retailer to make economically viable the expensive piece of burnished stainless steel that is the enomatic. (But it does mean a lot of free wine for consumers around town.)
But Union Square Wines took the plunge and I decided to put them to the test. I strode in last weekend and asked for a card. Not so easy, it turns out. You have to be an existing customer–it's structured as a "reward" system. Well, I've bought wine at the store before, I replied. "But do you have the card?" Ah, no. A purchase is required and each dollar spent accumulates 5 points, which can be deducted from the card at the enomatics.
So seeing that 40 points could get me a couple of tastes, I splurged on an $8 wine. Then I had to take my receipt to another desk across the store (no plans for streamlining this at one register) where a staffer mercifully took pity on me and gave me 200 points instead of the 40 I was due.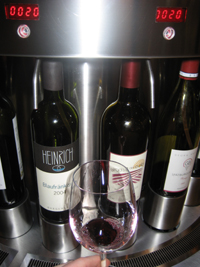 Then I hit the machines. The pours were SMALL. But they were FRESH. It only took me a shot of riesling, gewurztraminer, some rustic French red, and a bonarda from Argentina to realize that the number of points deducted was the equivalent to the price in dollars of the whole bottle. Too bad I didn't have enough for the 225 point Barolo in the front room. Net-net the enomatic is a way to get fresh, free wine served on demand. Just, for the sake of the NY regulators, don't think of it as a bar!
* * *
On a related note, the WSJ had a story yesterday about the potential demise of the bar car on Metro-North trains. Installing enomatics on the trains could be an excellent use of the machine that substitutes capital for labor.