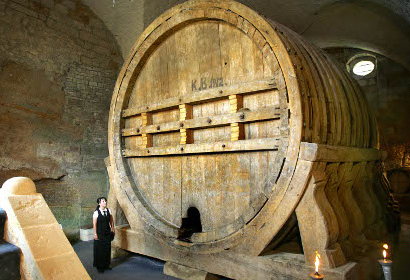 CHUGGED: Dornfelder
Nothing says par-tay like 4,000 liters of Dornfelder! Or so a German chef thought when he partially filled a 140,000 liter barrel for the first time in 400 years. The cause was a two-day bash called the Riessen Weinfass. [TheLocal.de]
SPIT: classified growths?
In an effort to help sales beyond the top wines of the region, local trade authorities in Bordeaux have proposed a four new price categories: Art, Exploration, Fun, and Basic. Move over, classified growths, here comes exploration and fun! [AFP]
SIPPED: bottoms up
Gallup released its annual poll about the drinking patterns of Americans. Wine's slightly down, but the data show the amount of people consuming alcohol at a 25 year high (hello, recession?). See our discussion about last year's data.
SIPPED: A Year of Wine
Stevie at the blog wierdcombinations.com has a review of my book, A Year of Wine. He writes, "Like a refreshing Chablis on a warm day, the book is cool, smooth and easy going down with enough earth and interest to keep you wanting more." Very nice–but it sounds like he should have gotten the magnum edition!
SPIT: fine wine; SIPPED: regulations
Fancy enomatic machines can store and open bottle of wine for days, if not weeks. Thus stores (and bars) can use the system for dispensing tasting sized pours of expensive wines, amortized over days. However, in Vancouver, regulations appear to thwart this: The anonymous bloggers at Winecouver report that authorities are now enforcing regulations that make stores dump all sample bottles 30 minutes before closing, including those in Enomatics. Also, consumers may be limited to two one-ounce pours–in plastic cups.
SIPPED: under the influence
UPDATE: The WaPo follows the beer distributor money on HR 5034.