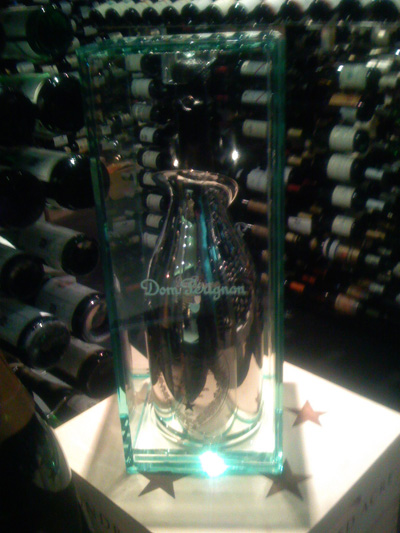 If the bling is the thing this holiday season, check out this Methuselah (6 liters, or the equivalent of eight regular bottles) of Dom Perignon champagne on display in a midtown Manhattan wine store. The elegant photo and lighting is thanks to my cameraphone.
Care to guess the price? I imagine the glass case is included. Be the first to guess correctly and you will win…OK, not the bottle. Just our respect and admiration this time–or maybe an hour in Mark's Petrus cage?
FYI check here for a baseline price on the regular bottle, sans white gold.
UPDATE 12/1: When is a Methuselah not a Methuselah? When it is a Jerobaum!
Tom Stephenson wrote in saying that he erroneously told me that the bottle that I saw in Crush Wine & Spirits, the store where he is general manager, is a Methuselah. In fact, it is a mere Jerobaum! (3L, or 4 regular sized bottles) But the price remained the same: $17,000!!!
Those of you who checked the price of the regular sized bottle saw that it was about $200 for a regular 99 Dom. So we're talking $800 worth of bubbly for $17k — more than 21x premium! Bling-tastic! With gold at $800/ounce, I'd take four regular bottles with a side of 20 one-ounce gold coins, in case anyone was feeling generous.
Props to commenter Chris C for working this into a food-pairing post! And commenter Chaz below for being the closest to the actual retail price without going over!