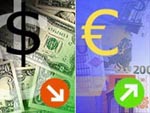 "The weak dollar makes American products cheaper overseas, buoying sales, and makes imports more expensive, encouraging consumers at home to buy American…As the dollar fell, gold reached $1,117.40 an ounce at the stock market's close on Wednesday, setting another record high as hedge fund managers and wealthy speculators continued to buy the precious metal." – NYT 11/11/09
Applying this to wine:
1. About two-thirds of wine sold in America is produced in America, by volume. If you're in the portion that drinks imported wine, what price would it take for you to consider switching to domestic wine? If foreign exchange rates fell to $2 to the euro (a decline of 33% from current levels) would that be enough to make you drink more domestic wines? Or, say, $3 to the euro, double the current rate? [shudder] Bear in mind too that FX moves are often parabolic since wholesalers and retailers seek to maintain the same markup even when the base cost rises. [Update: please see comment below from Matt S.]
2. Will domestic wineries start targeting overseas markets more? Apparently they already have since the Wine Institute reports that exports of US wine have doubled since 2002, when the dollar was at a high. But will American wines exported be more than Blossom Hill and white zinfandel?
3. With the rising price of gold, maybe that gold-encrusted Jerobaum of Champers wasn't such a bad deal after all?!?
Related: "Why so few tasty American wines under $12? Wine importer Bobby Kacher"