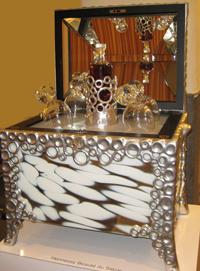 With little new wine bling rolling out for this holiday season, I had a brief encounter with the bling of Christmas past. No, it wasn't the $10k white gold Dom Pérignon jerobaum we brought you (photographically, at least) last year.
Instead, a few days ago I stumbled on an actual bottle of the Hennessy Beauté du Siècle cognac (find this cognac). Introduced last year in its display case designed by ten artists using mirrors and molded aluminum (!), the cognac is supposedly hand delivered in a limousine by one of the directors of LVMH when a bottle is, in fact, purchased. I twisted the Baccarat crystal bottle around in its holder (I didn't lift it because I thought it might trip a sensor and since I'm not Indiana Jones, I didn't have a 750g bag of sand to put in its place). There's no label, save for the government warning! Ah, the surgeon general's reach escapes no one.
Perhaps there is an aluminum lining for those interested in purchasing: introduced at €150,000 last year, the price has gone down based on exchange rates alone!