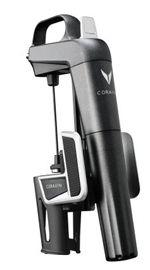 Coravin, the company formerly known as Wine Mosquito, has raised another $22 million in private equity funding. That brings the total equity sold to $40 million (plus another $3 million in debt). The lead investor of this round, closed on November 8, was not publicly disclosed. Neither were company revenues. Nor was the valuation.
The privately held company, based in Burlington, MA, sells a wine preservation/extraction device that uses a hollow needle to penetrate the cork of a wine bottle not unlike a mosquito if Bacchus designed mosquitoes. Over about 30 seconds, it injects argon gas to pressurize the bottle and then extracts a glass of wine without removing the cork. The device lists for about $300 retail and replacement argon canisters list at $18 a pair. That's enough argon for about 30 glasses of wine.
While this price is low for restaurants compared to many by-the-glass systems, it does seem steep for consumers. Nonetheless, the company continues to raise capital at an astonishing clip. Sales were briefly halted in 2014 after complaints of exploding wine bottles. The company now recommends using a "wine bottle sleeve" when opening bottles.
The parody Twitter account @shitmysommsays recently tweeted "If you need a Coravin at home, you need more friends."
The last company in the wine space to raise this much private equity was Lot 18, which raised $33 million in 2011.
UPDATE: Vivino, a wine app developer, raised $25,099,884 in private equity funding in January of this year.