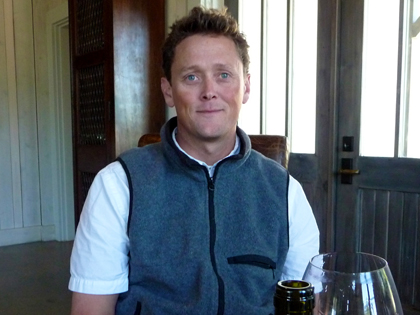 Copain winery has been sold to Jackson Family Wines for an undisclosed sum the wineries announced today.
Copain has taken twists and turns to end up at the winery perched above the Russian River Valley floor. Co-founded in 1999 by Wells Guthrie as winemaker,
Guthrie started making full-throttle wines and received high scores from point-wielding critics. But he told me that in 2005, he had a Damascene conversion after returning from a trip to Burgundy and the Rhone. He found his wines were aging too rapidly and that he wasn't proud to serve them to winemakers he had seen on his trip, such as Jean-Louis Chave and Jeremy Seysses. So Guthrie essentially fired all his customers and changed the winery's style, seeking out pinot noir, chardonnay, and syrah fruit from cooler sites in the Anderson Valley.
This new style of wine also won acclaim, but from sommeliers as well as wine writers (often, the non-point-wielding kind). The entry-level wines called "Tous Ensemble" are very good wines for the price (about $25; find these wines) and the single-vineyard wines are also consistently excellent, though they are in smaller production and harder to find, fetching about $75. Interestingly, even though the winery and Pottery Barn-style tasting room are in the Russian River Valley, the fruit almost entirely from the Anderson Valley via long-term contracts.
What's in it for Jackson Family Wines, founded by Jess Jackson and perhaps most renowned for Kendall-Jackson chardonnay? Well, they get a hot winery. The SF Chronicle pegs Copain's production at 25,000 cases and Jackson Family, which owns 50 wineries around the world, at 5.6 million cases a year. So it's about prestige more than profits, per se. The SF Chronicle also points out that Jackson Family owns 18,000 acres of vineyards in California with considerable holdings in the Anderson Valley. According to a press release, Wells Guthrie will stay on as winemaker at Copain.
"The most important thing is to maintain winemaking style," Hugh Reimers, President of Jackson Family Wines told the Chronicle. "Wells is coming on with the acquisition, and we'd love him to make the wines for as long as he'll stick around. He's really the heart and soul of that winery."
The Chronicle piece also suggests that the purchase will give Jackson Family access to a younger, hipper crowd, naming the IPOB (In Pursuit of Balance) organization of which Copain is a part. But it is hardly guaranteed that would these consumers, who value boutiques as well as balance, would continue to buy from a mega-corp. The Copain customer base might just turn over again.
Jackson Family has been acquisitive of late. Last month they purchased Penner-Ash in Oregon and acquired Siduri last year. Like Copain, neither of these wineries has significant vineyard holdings.
The Prisoner wines were also sold last month, for a whopping $285 million to Constellation. These wines are higher volume and also not specifically tied to small vineyard parcels like the Copain wines.
Who knows how long Guthrie will stay on. Hopefully, if he ends up making wine that he can't pour with pride for his friends in France, he will head for the exit.