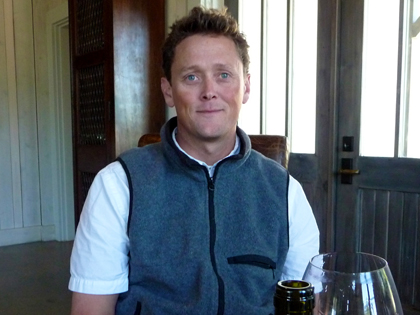 Saul had his conversion on the road to Damascus. Wells Guthrie had his conversion on the road home from Burgundy.
The lanky, California maker of pinot noir, chardonnay, and syrah told me at his Sonoma winery that he had his conversion in 2005, after returning from a trip to Burgundy and the Rhone. He tasted the pinot noirs and syrahs he had been making since starting his own label, Copain Wines, in 1999. The wines were made in a big, full-bodied style and had received high scores, including some 95s from Robert Parker. (Wells' resumé includes working a year at Turley, as well as briefly at Marcassin, and two years with Michel Chapoutier.)
"A light went on," he says about that January day in 2005 when he returned to Sonoma and tasted his own wines. The older wines from bottle were advancing too rapidly. Friends with Jeremy Seysses (of Domaine Dujac) and Jean-Louis Chave, Wells said he wasn't sure he would be proud to serve his wines to them; he had to change his style to something more age-worthy, which meant lowering the alcohol and maintaining freshness of the wines. He also mentioned having a 1981 Williams-Selyem Allen Vineyard pinot noir from the Anderson Valley a couple of decades after release and was amazed at the grace with which it aged, describing it as "Jayer-like."
Meanwhile, he had harvested some of his 2003s at 22.5 Brix (lower sugar level, therefore alcohol) and they tasted leaner. Thus he decided to change his style. He describes his current style as "less is more." The 2005 vintage was lost to frost for many of his wines so the first vintage of the new regime was 2006 (many of the 2008s were lost too, to smoke this time).
How did such a change in style sit with his mailing list–did he fire all his customers who liked the full-throttle style of the early days? He says that Parker's influence has diminished and pointed to other influencers such as Allen Meadows, Eric Asimov, John Gilman, and sommelier Raj Parr who like his wines. Though he didn't outright admit it, I imagine there has been some turnover in his fan base but this new
I tasted some of his exciting and energetic 2009s. The Brosseau chardonnay, a first vintage for him, comes from a vineyard of 35 year-old, own-rooted vines planted on limestone at 1,500 feet elevation in the Chalone AVA. Harvest started August 28, grapes were pressed in whole clusters, and the racy, alluring finished wine (pH: 3.18) sees no new oak.
For the pinots, Wells looked north to cooler Mendocino County, specifically the Anderson Valley. The lineup starts with the really respectable "Tous Ensemble," which at 12.9% alcohol and $20 retail is that rare find of affordable and tasty pinot. The "Les Voisins" comes from two organically farmed vineyards, sees no sulfur at the crushpad, is 100% destemmed and sees 10% new oak. The tariff is a little higher (about $40) but worthwhile as the wine has more structure, including a particularly fine-grained finish.
Of the various single vineyard pinots, I tasted a duo of Wentzel Vineyard, the 2007 and the 2009 in bottle. The '07 has excellent depth, bright acidity, and an almost savory, minerally quality rarely seen in new world pinot and an integrated finish. Wells says it tastes better on the second day of being open. It's hard to believe that the vines here are so young–this was less than their fifth vintage. The '09 was tighter and more tannic given its youth, but still had a lot of stuffing and balance that bode well for its evolution.
The Monument Tree 2009 from bottle exhibited restrained richness, a hint of oak on the nose, a vibrant mouthfeel, and elegant tannins–really a fine pinot. Sadly, Wells told me that the opportunity recently arose to purchase this site, which he greatly respects. Unfortunately, word came through with short notice while he was on vacation and the vineyard was sold to Silver Oak (Twomey). Copain retains a multi-year lease on the vineyard.
Finally, I tasted the 2009 Kiser "en bas" and "en haut" bottlings. From vines about a decade old, this site (particularly the higher, or "en haut" block, that is really elegant ) merits scrupulous attention from pinotphiles.
Sadly, a 2004 pinot (I don't recall which vineyard) was corked but it would have been fun to taste the change in winemaking styles in the glass.
A final note, although Copain owns the vineyards surrounding the winery in the Russian River Valley, they sell most of the fruit a (except for a few rows of trousseau rouge). Nonetheless, the newish winery appears ripped from the pages of Pottery Barn, Wine Country edition, and makes for a gorgeous stop on your Sonoma itinerary (call ahead to reserve a spot). Although it's on Eastside Road, not the road to Damascus, you can taste the conversion with those 2009s.
Search for Copain wines at retail