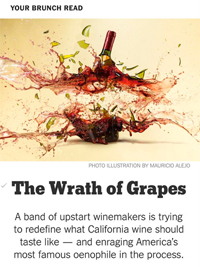 The stylistic clash happening in California has gotten attention in a couple of stories recently, both worth checking out.
The first, "The Wrath of Grapes," by Bruce Schoenfeld in the NYT magazine, provides an engaging summary of recent goings-on in the Golden State. His narrative follows Raj Parr, a co-founder of In Pursuit of Balance, a group of California producers overtly making wines that favor restraint and elegance over bombast and fruit. He contrasts this with the style of California wines that Robert Parker has championed and ventures to London to attend a tasting with Parker. It's a good piece; I'll be adding it to the syllabus of my next NYU wine class.
The second piece is a bit more wonky–get ready for a discussion of grape clones, Vertical Shoot Positioning (*not* something from the Kama Sutra), and yeasts getting more ferocious. In it, David Darlington asks in re: Russian River Valley Pinot Noir: "Why are so many so monstrous?" Good stuff–I won't offer any spoilers here but he does survey several winemakers and a climate scientists. The story appears in the April issue of Wine & Spirits (available online).