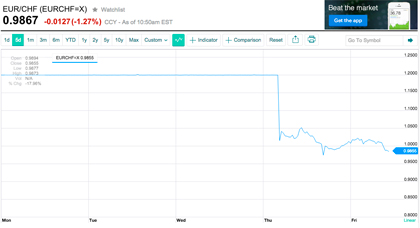 The Swiss franc surged in foreign currency trading yesterday as the central bank decided to stop defending the 1.20 floor with the euro. Last trade in the EURCHF was 0.99, so that's a 20% surge for the Swissie. The CEO of Swatch was appalled at the currency move will likely send prices higher in foreign markets for the "Swiss made" watches. James B. Stewart, one of my favorite financial journalists, has an article in today's Times examining the role of currency moves on various luxury products (and was kind enough to include a quote from Dr. Vino).
So, because I know you loooove talking currency moves even more than uncorking a good white wine from Neuchatel, what does the Swiss franc surge mean for wine?
Well, Swiss wines will likely get more expensive. Yes, by the way, there are 15,000 hectares (37,000 acres) of vineyards in Switzerland. Most are consumed locally but some make it to the wine list at Artisanal (which features more than a dozen) for patrons to have with fondue. While the wine trade may be slow to pass on foreign currency declines, we should check with the wine buyer at Artisanal in a few months and see where Swiss wine prices are.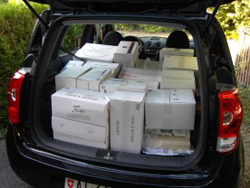 For the Swiss, imported wines just got 16% cheaper. Unlike European wines in the US that have to filter through the three-tier system, this price decline will be much quicker since a Swiss resident could hop in his or her car and drive to Barolo or Burgundy and fill up the trunk. (Note Swiss plates on the car at right with 189 bottles of wine in it.)
But one wine aspect that hasn't gotten a lot of attention is Swiss-based buyers of vineyards. A big game in France recently has been for high-net worth individuals to move their assets to Switzerland–or move themselves, taking Swiss citizenship. These include Bruno Prats, formerly of Cos d'Estournel. Maybe there are others from the wine world. Some Swiss also own vineyards in France, including Domaine Paul Jaboulet Ainé (owned by the Frey family), and then there's the globetrotting Donald Hess. These, or others, could see the time as ripe to scoop up some euro-denominated vineyards.
So which wines will you be having with fondue this winter?