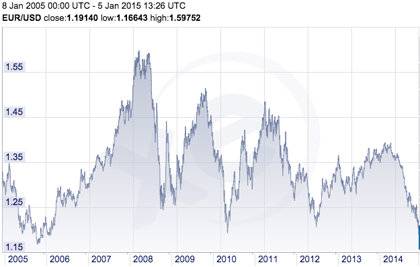 The euro hit 1.18 against the US dollar overnight, a level last seen in 2006. One might think that suddenly Barolos, Burgundies and Champagnes will become cheaper here in the US. Well, a European wine lover can dream…Here are eight reasons why we won't see discounts on wine shelves in the immediate future.
1. Retailers have stock on their shelves already. They have to clear that inventory. On that note:
watch out for January sales.
2. Importers negotiate their purchases on a rolling basis but for small producers and importers, that may just be once a year. Maybe that was last April when EURUSD was 1.39. Or maybe it is coming up for negotiation soon and could benefit.
3. Even if importers are re/negotiating now, they may not pass the cost savings on to US consumers. Maybe they will keep it? Look at airlines: the price of oil has fallen over 40% and airfares haven't budged an inch (in fact, many still have a "fuel surcharge" appended!). They cite strong demand and the same could be for the importers and their European wines. So a falling euro may just mean fatter importer profits, in part to balance a time in the past when they took it in the shorts thanks to a stronger euro.
4. Shed a tier: the multiple tiers of the US wine industry–winery, distributor, importer, retailer–often absorb currency declines, for better or for worse. Retailers that import directly could have the best deals.
5. Retailers may benefit. Contrary to point 4, if a retailer imports directly and doesn't pass all the FX savings along then they will have margin expansion.
6. The coveted wines are coveted. Wines that may see price declines in coming months will be ones where price points (e.g. $9.99) are important for market share. Generally, people buying Spätlese aren't going to go nuts for $1.50 off per bottle because demand is more or less inelastic. That said, the prices on many imported wines have been increasing for years, so if the strong dollar could at least hold increases at bay, that would be a small triumph. But many small-production wines in Europe have worldwide demand and a declining euro may stoke demand so the producers may even raise prices. Gah!
7. It's all Greek: if Greece did exit the euro, willingly or unwillingly, the new drachma would tumble and Greek wines would go "on sale." It would then be your civic duty to buy Greek wines to help their economy.
8. The domestic wine industry could benefit. If they buy barrels, glass, corks, labels or equipment denominated in euros. Again, this would benefit wineries more than consumers unless the euro really tumbles.
Even if the impact of the euro decline may take a while to trickle down, if at all, to wine consumers, one thing is for sure: European vacations are currently 15% cheaper than they were last April.