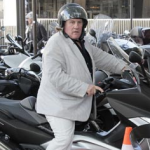 French wine consumption has been declining for the past fifty years. But one man seems to be taking it upon himself to single-handedly reverse this trend: Gerard Depardieu.
The Frenchman-turned-ruski told the British site So Film, "I can absorb 12, 13, 14 bottles…per day. But I'm never totally drunk, just a little pissed."
"All you need is a 10-minute nap and voilà, a slurp of rosé wine and I feel as fresh as a daisy!" He added.
He's not likely to run out of wine since Depardieu owns Chateau de Tigne in Anjou. He once joked that his mother's amniotic fluid was wine.