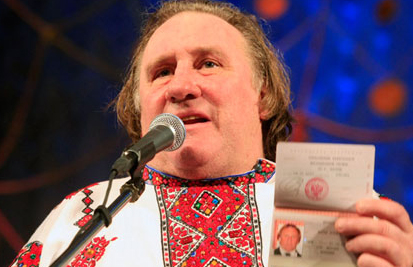 Over the past month, a refugee tried to sell assets in his home country, bought a tiny house in a neighboring country, and took a passport from a third. It was none other than bon vivant Gerard Depardieu, who fled France, listed his $65 million Paris apartment, bought a house in Belgium a stone's throw from the French border, and then received a Russian passport two days ago from Putin (wonder what they uncorked? Putin is a teetotaler.). Depardieu is fleeing a possible 75% tax on incomes above 1 million euros in France (though the proposal got struck down by the high court and its fate is unknown).
There is a slight wine angle to all this. Depardieu has said he could drink five bottles of wine a day, so wherever he goes, there may be a bump in the consumption figures. Seriously, will this naturalized citizen be a wine ambassador to Russia (even culturally, assuming he's not around too much)? Depardieu owns Chateau Tigné in Anjou and is involved in several other wine projects with Bernard Magrez and Michel Rolland. Incidentally, in a lengthy interview with Decanter in 2009, he professed to being an Italophile, saying "I love Italian culture." But, seemingly, not their tax rate either.
What do you think of his actions: treasonable or reasonable?