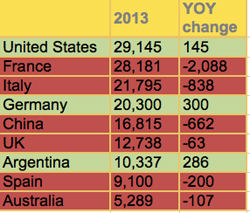 The OIV, an international wine organization based in Paris, released their annual report of the state of the wine world last week.
In it, they showed the US market becoming the largest in the world for the first time. Even though this got some play last week, we already broke out the foam fingers a couple of years ago when another organization declared the US the world's biggest wine market. Of course, in per capita terms, we're still a relative weakling.
Still, the trend in world wine consumption is clear: the US is one of the few big, growing markets in the world. France sagged a tremendous amount year-over-year (see chart), making one wonder if there was a methodological problem. Also of note in their report, China actually showed a decline.
Anyway, we'll raise a glass to these statistics–all in the name of keeping the USA at the top of the list!
See the OIV report