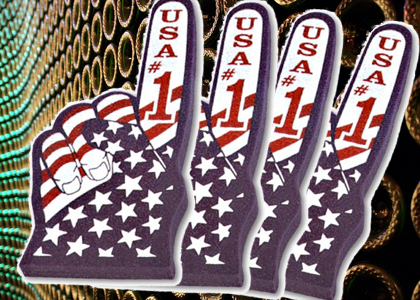 We did it! Congratulations, America! According to analysts Gomberg, Fredrikson, we are now the biggest wine consuming country in the world! USA! USA! (hat tip: winebusiness.com)
We've overcome challenges as a country. Even a scant four decades ago our parents had trouble finding good wine here. And our domestic wine industry, which makes about two-thirds of wines sold here today and is the fourth largest in the world, had yet to reach acclaim on the world stage. But now we put away more of the stuff than France and Italy despite the fact that we can't easily buy wine via stores on the internet. Triumph over adversity, part deux!
What with a large domestic population, it's understandable that we could do it. But we still need to work on that per capita consumption rate, where we're currently below the likes of Ireland and Equatorial Guinea. So let's raise a glass in honor of America!