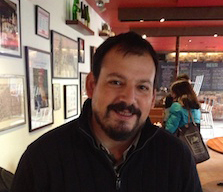 Wine enthusiasts know that where grape vines grow can contribute to the flavors of the resulting wine. But Pedro Parra has decided to dig a little deeper: the "terroir consultant" has excavated over 20,000 holes to study vineyard soils.
Based in Chile but trained in Paris, the Chilean has more views about soil than your average wine consumer. For one, he tries to drink only wines from a certain soil type, rather than amorphous blends. And even there, not even all soils pass the sniff test: clay soils produce wines that are too fruity and sweet for him, with sensations in the front of the mouth that he admits have broad appeal, though just not for him. He's more of a schist, granite or limestone man.
To illustrate the flavor profiles of each type of soil, Parra led a tasting in New York City last week in a midday tasting at Hearth restaurant. Paul Grieco, a partner in the restaurant as well as the Terroir wine bars who was also chosen as the second most influential person in NYC wine, invited Parra to lead the tasting of 19 red wines, including several wines from his Chilean project, the Clos des Fous.
"When you have a chance to taste a lot of wine by rock, you will start to organize wines by rock," Parra told the small group of people from the wine trade.
He offered us this primer:
* Limestone: you feel it first in the tongue and is more lateral.
* Schist: is powerful and lateral.
* Granite: always a little dry with a sensation more in the back of the mouth, almost in the jawbone.
* Gravel: wine is always more alcoholic and can have a burn on the nose.
* Basalt: similar to schist.
Armed with these generalities, we dove into the first flight. As they hailed from Barolo to Burgundy, there were so many factors to account for in the glass that it was hard to focus on the soil type alone. I decided that I liked limestone the best. Except for when the granite really came through. Gah–is this all a pile of schist? In the end, the most important variable was often the hand of the winemaker. That said, Parra argues there are often fundamental characteristics of certain vineyards that can't be airbrushed out; he even told a vineyard owner frustrated at not being able to reduce the tannins in a wine that he should give up on that site and go to another soil type that would more easily produce the sort of wine he was looking to make.
Does the site actually transfer minerals from the dirt to the glass? Parra says that the discussion has lamentably been dominated by scientists. "It's not minerals from the soil. It's the sensation in the mouth – natural acidity or fake acidity."
Paul Grieco, who sired the Summer of Riesling, told the group that he's fine-tuning his winespeak: "I used to use the word minerality a shit ton; I'm trying to use different words and be more specific now."
Soil type often leads vintners in the new world to new vineyard sites. Josh Jensen worked in Burgundy and then came back to California, looked for limestone and planted the vineyards for Calera. More recently, Keven Harvey and the team at Rhys have scouted sites scrupulously. Parra indicated that while other factors such as weather were involved, with a good site, "you start with a 50% chance of doing it better than the other guys."
Asked about any up-and-coming areas based purely on geology, Parra surprised the room by declaring Canada as one to watch, specifically in the Okanagan Valley. He also added Armenia and Georgia, as well as a remote southern part of Chile.
In the end, there was a consensus at my table that the tasting left us with a lot of unanswered questions. That's not a bad thing since the answers will be found in further tasting. And I'll keep an eye out for soil types mapped on wines I'm tasting. Getting down and dirty, if you will.