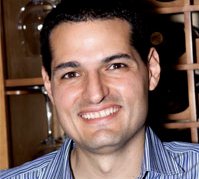 Antonio Galloni has announced that he is leaving the Wine Advocate, where he assumed coverage of California and Burgundy less than two years ago. He also reviewed the wines of Champagne and Italy for the publication.
He told the NYT-Diner's Journal blog that he will be starting his own internet venture though he didn't specify exact plans and said he is still seeking investors. In the past, Robert Parker derided those writing on the internet as "blobbers." Galloni may well have an offline presence since he has organized several events, including the "Festa del Barolo."
Galloni mentioned that the recent sale of the Wine Advocate to investors from Singapore played a part in his decision. At that time, the new editor-in-chief, Lisa Perrotti-Brown, left the door open to current staff departures, telling the WSJ, "There is a plethora of good wine writers out there. It's a buyer's market." So did Galloni jump before he was pushed? The Wine Advocate has all the transparency of a papal conclave–and perhaps just as much smoke! Either way, I wish him the best with his new venture.
The Diner's Journal post did not comment on who would take over for his coverage areas the Wine Advocate. But does it matter? With Parker selling his stake overseas, his diminished presence at the publication, his downplaying Bordeaux '11 and '12, and now Galloni leaving, the publication seems to be at a low. The Ralph Nadir of wine criticism?
Antonio Galloni of the Wine Advocate [Q&A]