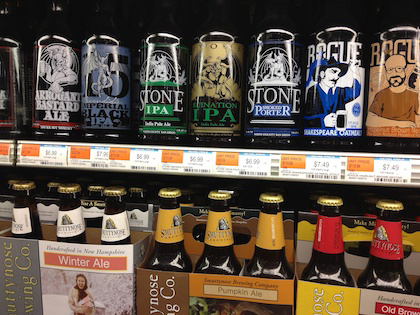 "Craft beer is overtaking wine as San Francisco's beverage of choice," writes Jordan Mackay in San Francisco magazine's lengthy spread on the topic.
It's no surprise: the craft beer story in America is wonderfully exciting, a grass-roots story of bubbling worts in basements, with the rewards of many shades relatively easy to find in the glass. Last year, while beer sales sagged overall, craft beer was up 18% according to Nielsen data and craft beers sell for a 60% premium to mass-market beer (not bad since they have 100% more taste). It's still a niche market with just 8% of beer sales in 2011, but the core consumer are 21-34 higher income males, a crucial demographic for wine too.
Frankly, the headline that craft beer is overtaking wine in select markets is not surprising. Once you find one that you like, craft beer offers relatively more consistency (no TCA) than wine and a good amount of complexity especially given the value. Sure, given my druthers, I'd have wine. But a good bottle of wine for a weeknight might be $15-$20 for two people while a couple of good beers would be $3-$5. Repeat that most nights for a month and, in an economy that has yet to find a firm footing, it's not surprising on that calculus alone that craft beer is having its moment. I know that I have reached for some suds from Bavaria, Belgium, Brooklyn and other places that don't start with B in the past few months.
What do you think: is craft beer a big threat to wine? Is it an either/or proposition? (While wine drinkers might try beer, I'd be interested to know how much "hop heads" experiment with wine.) How often do you crack open a nice cold one?