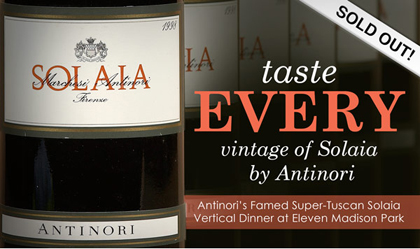 If [wine writers] are beholden to wine producers for the wines they taste, they are not likely to fault them…

While it is important to maintain a professional relationship with the trade, I believe the independent stance required of a consumer advocate, often not surprisingly, results in an adversarial relationship with the wine trade. It can be no other way. In order to pursue independence effectively, it is imperative to keep one's distance from the trade. While this attitude may be interpreted as aloofness, such independence guarantees hard-hitting, candid, and uninfluenced commentary.
That's from the boiler plate material on ethics that appears at the beginning of each edition of Parker's Wine Buyer's Guide, now in the seventh edition. Robert Parker set an admirable standard long ago.
Antonio Galloni, critic at the Wine Advocate, told us last year that he wanted to do more "educational events that bring consumers closer to wine." Last year Antonio Galloni organized the Festa del Barolo, a 15-producer event, and a vertical of Massetto with the winemaker from Tenuta dell'Ornellaia attending at Eleven Madison Park. Galloni is speaking at a Zachys event, a $1,200/head dinner at EMP showcasing each vintage of Solaia from 1978 – 2009. The event is sold out and the owner and winemaker will also be in attendance. Antinori also owns wine properties in California; Galloni is the critic for California wines as well as Italian.
The big question for this dinner is how much distance is required at the dinner to be arm's length, a different table or just one seat?
Maybe the eighth edition of Parker's Wine Buyer's Guide will revise the "role of the wine critic" section?