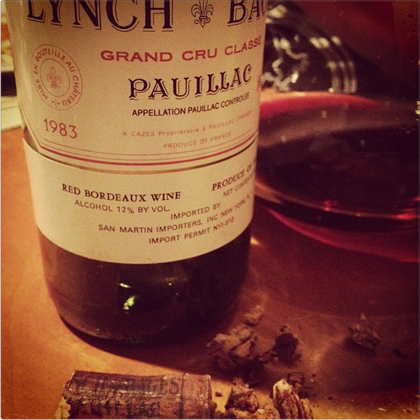 I always enjoy drinking a birth year wine, particularly if it is a wine from my birth year. But even if it is someone else's and you are in their company, then the glass is full of not only a mature wine (that's hopefully still good or great), but also a time capsule, rife with symbolism and memories.
My brother stopped by our house for the first time since winning an around-the-world sailing race earlier this year. I had scored a bottle of 1983 Lynch Bages in anticipation of toasting his tremendous accomplishment at our next get together. So last weekend, I presented him with it, pulled the crumbly cork and decanted it. He was traveling with his girlfriend and we all savored the wine, which had really complex and enticing aromatics of tobacco leaves, a surprisingly spry and delicious midpalate, and a finish that tapered a tad too quickly. On the whole, the wine was in very good condition and, after polishing it off, my brother said he wanted to take the bottle home with him (he lives in France). Maybe he will put it on the shelf next to his race trophy?
Giving birth year wines as gifts for important achievements and milestones goes over really well. I haven't done it a lot but I am going to try to give them more more since they can make for a really memorable gift. And with a bit of searching, it's not too hard to find them. I got this one from a friend who had cellared it since release. But a few years ago, I wrote a story for Food & Wine on finding birth year wines and it can definitely be worth the effort–especially if you can pull the (crumbly) cork and share it together.