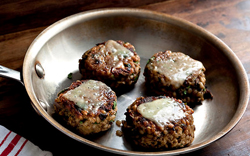 Okay, we just did an "impossible" challenge but it reeked of pipi and April foolery. So here's something more useful: five veggie burger recipes via the Times, where the article was as high as number two on the most emailed article list over the weekend.
Seeing it on the way to the Trade Joe's, we decided we would try it out here at the Dr. Vino World Headquarters. We made the "curried lentil, rice and carrot burgers" and they were pretty good (though the cumin smell will linger in the kitchen for days). It was so impossible for me to pair with wine that I went with a Bengali Tiger, the supremely balanced and utterly delicious IPA from Sixpoint brewery in Brooklyn.
There are other challenges on the list: Beet, Rice and Goat Cheese Burgers; Quinoa and Vegetable Burgers With Asian Flavors; Mushroom and Grain Cheeseburgers. Each has a particular aspect making it difficult, but at least a couple can offer some fun red wine pairings for vegetarians. Unless you think they are…impossible?!?