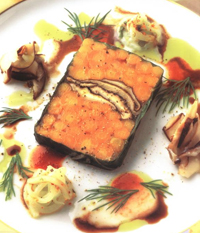 My wife has a dilemma: she loves red wine and she is a vegetarian. Granted, by picking the right reds–lighter varieties such as pinot noir, gamay, or poulsard–or the right vegetables–mushrooms or lentils–the problems are surmountable and the results rewarding. Nonetheless, my wife represents what may well be a growing number of Americans who eat less or no meat, urged on by Michael Pollan ("Eat food. Not too much. Mostly plants.") and Mark Bittman (who recently suggested eating a vegan diet once a week). Heck, there are even vegan bodybuilders! (I also eat a mostly vegetarian diet but enjoy whites more than my wife, which reduces the food-wine pairing dilemma.)
Many wine enthusiasts have drawn a line in the pomace and said no to wines over a certain alcohol percentage. But the changing food preferences of Americans may represent the greater challenge to high-octane reds since they generally make for lousy partners with seafood, lighter, or plant-based fare. And don't forget spice. Much Indian food is vegetarian and spicy; dousing it with a 15% Chateauneuf du Pape sounds to me more like a recipe for pain, not pleasure. The big reds are easy to pair with the fat and protein of grilled meat but if Americans are feasting less on flesh, the treacly cabernet producers of the world face a challenge (as do the oak barrel makers of the world).
Charlie Trotter is one chef who put vegetarian cuisine literally on equal footing with meats since diners at his restaurant had a choice of either a meat menu or non-meat menu. So with news this week that he is closing his restaurant in August after 25 years, it seemed timely to broach the subject of how a vegetarian diet could impact the wine world. My wife and I have fond memories of Charlie Trotter's since we lived in the adjacent building after we were married. One dinner we had there that highlighted the difficulties of vegetarian pairings was an all-tomato menu, a challenge for any wine, but particularly challenging to wash down with young Cabernet (unfortunately, I can't recall what we had).
Anyway, with bacon-drenched everything appearing these days (ice cream, vodka, toothpaste, and the "explosion"), it's not as if vegetarians are "occupying" the dining rooms of the world's finest restaurants. But eating less meat appears to have taken hold in America and, for the wines that people actually drink wine (as opposed to collecting and flipping it), this will likely have an impact.