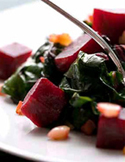 Beets are contentious. Not because one variety can be made into sugar cubes or ethanol. But because some people don't like them!
I was at lunch with a friend who has fine taste when a beet salad appeared. And a zinfandel. He didn't touch the beets. I asked him if it was the unflattering pairing with the wine. He said no, he just not a fan.
But some people are. And summer is a great time for a beet salad as a part of a buffet or a picnic (don't spill them on the blanket, however). They are good for you, packed with folate, featuring in the number one slot on a list of "The 11 Best Foods You Aren't Eating." So if "eat your beets" is the new "eat your peas," then we should at least know which wine to pair with them! Complicating factors in the beet salad for the wine pairing are the sugars in the beets as well as a vinegar dressing. After many trashy "impossible" pairings, here's a healthy one to help us all look awesome in our swimsuits.
Which wine would you pair with a beet salad–or is it impossible?!?