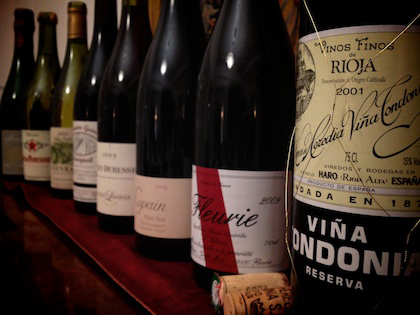 I recently tweeted that I'd be leading a tasting of hipster wines. "Will you wear a wool hat?," someone asked in response. Another tweep asked if there would be any PBR on hand for afterward.
The tasting on Manhattan's Upper East Side came and went and I didn't wear a woolen cap, flannel shirt, or use empty 40-ounce cans of PBR as decanters. But we did taste some fine and fun wines, if quirky and hard to find (though not in Brooklyn).
We started with the Cedric Bouchard, Inflourescence, "Val Vilaine" V09 ($56). This young grower has attracted quite a bit of attention and, based on the reaction of those in attendance at our tasting, rightfully so. While champagne from big houses can be excellent, it is most often a blend, of vintages, varieties and vineyards. Bouchard, located in the south of the appellation in Aube, bristles at this blending and makes all of his wines as singular: single vintage, single variety, and single vineyard. Intellectually interesting, to be sure, but it is a wine that also succeeds in the glass. Allow me to geek out: This particular blanc de noirs comes from pinot noir in his father's vineyard, hand-harvested at low (for Champagne) yields of three tons per acre, all from the 2009 vintage, fermented with indigenous yeasts and then rests on the lees for 16 months, and is bottled with no dosage! The vibrant, young champagne captured the that one person took pains to find in Hong Kong (for a third less than NYC, incidentally) the following week.
Moving to the still whites, no hipster wine tasting would be complete without an oxidative or skin-fermented white! Since we had tasted a Coenobium Rusticum previously, I decided to go with a wine from the Jura–the Montbourgeau 2008 L'Etoile Chardonnay ($20). This isn't your mother's chardonnay–this is an oxidative chardonnay that spends two years in barrel. Nutty and minerally with a long finish, the wine's austerity was somewhat polarizing. We then changed gears and shifted to Vouvray, specifically the Francois Pinon Silex Noir 2009 ($23). From a warmer year, this wine has a lot of roundness on top of the acidity of the chenin. The honeyed character would go great with Thanksgiving dinner–I seconded the idea! (The tasting was a few days before Thanksgiving.)
Moving to the reds, hipster love of the Loire continues, as I decided to include a value wine in the form of the Domaine Guion, Bourgeuil, Cuvée Prestige, 2009 ($14). Cabernet franc usually shows well for the uninitiated in warmer vintages and this one convinced most people while others found it to be green. What can you do? It's a polarizing grape.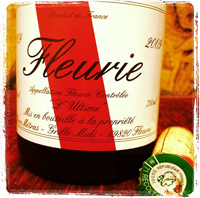 We then had a hipster special: Yvon Métras, "l'Ultime," Fleurie 2009 that our hostess hand-imported back from Paris. (The wine is essentially unavailable in the US.) Quite hilariously, the American told the clerk that she was looking for a hipster wine and he gave her a blank stare–I guess "le hipster" doesn't translate. In the glass, I found the wine to still be in a ripe phase that I have found that other 09 crus exhibit in youth. Although we probably drank this wine before its prime, people liked it and it was great to have such a direct import.
Then I set up a blind tasting of two 2009 pinot noirs, each about $30, one from California and one from Burgundy. I poured them side-by-side for people and many were stumped, finding the wines to lack the supposed telltale signs of New World pinot–darker color, primary fruit, and higher alcohol. That's probably because the American pinot comes from Anderson Valley and is made by Wells Guthrie, who had the Damascene conversion. Poured alongside his Copain Tous Ensemble 2009 ($28) was the Lafouge, Auxey-Duresses, 2009 ($27), a duo of graceful pinots under $30.
Finally, we concluded with a wine that was unanimously popular in my NYU class this fall, the Lopez de Heredia, Tondonia, Reserva 2001 ($40). A ten-year old wine that really sings. Why is it a hipster wine? Because the LdH table is always swamped at the New York distributor tastings. Rightfully so, these old-school Riojas are like trips back in time.
Everyone loved the tasting and wanted to find their favorite wines again soon. But nobody felt the need to seek out a woolen cap.