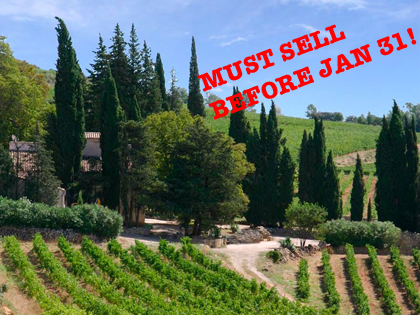 It's not every day that we get to talk about tax reforms on this site. Especially foreign tax reforms! But a recent change in the tax on capital gains from real property in France may cause several vineyards to sell before February 1 of next year.
French tax code previously had a zero percent tax on property held more than 15 years. No capital gains tax–and this is a land where the candidate from the parti socialiste has a 60-40 lead over the incumbent president? John Boehner must me gnashing his teeth.
The reform, introduced by PM Francois Fillon and ratified last month, would maintain the zero capital gains on property but push the holding period back to thirty years. (To ease the transition somewhat, in the intervening years, sellers will be able to step up their cost basis by the official rate of inflation.) Foreign owners may pay different rates. Here's how one site calculates the change in tax bills:
A French property bought by a UK resident for €500,000 in 1996 and sold 15 years later for €1m, for example, would not pay any French Capital Gains Tax on the €500,000 profit made.

If the same property, in the same circumstances, was sold after 1 February 2012, only 20% of the profit (€100,000) would be free from taxation. The remaining €400,000 would be subject to 19% tax, resulting in a €76,000 tax bill.
While we're not so interested in the holiday house market on this site, the net result is that some property holders who have held for about 15 years but not yet thirty may attempt to dump properties before the law goes into effect. That could mean some vineyards will change hands. Developing…