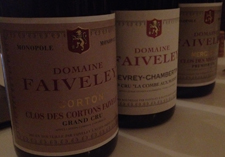 It's no secret in Burgundy and beyond that Faiveley has been on a roll. And it's no secret why: the arrival of the young Erwan Faiveley at the helm.
Erwan, 32, is the seventh generation in his family to run the company, which was founded in 1825 as a negociant, buying and selling wine. When his father was 25, Erwan's grandfather literally turned over the keys to his dad. And in 2005 when Erwan was 25, his father continued the tradition and put Erwan in charge (Erwan himself has no children, so his position is likely safe for 25+ years). I sat down with Erwan in New York a few weeks ago to talk about how he has improved the house style, overcoming paternal resistance, vineyard acquisitions and biodynamic winemaking.
With the weight of generations on their shoulders, today's heirs to the storied estates of Europe could be forgiven for having one primary goal: not screwing up. And when the family company holds a jaw-dropping 300 acres of vineyards in Burgundy, including 25 acres of Grand Cru, and makes wine across 18 different appellations, the pressure ratchets up even further. I could certainly understand if a scion asked for the instruction manual along with the keys and followed everything to the letter; ripping up the manual would seem like a remote possibility.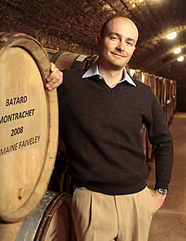 So when Erwan took over in 2005, he was careful not to rock the boat. He grew up in Nuits-St.-Georges and studied in Versailles (and later did an MBA at Columbia in New York). He told me that he wasn't happy the first two years running the domaine, as he contemplated a change in style and personnel. He went out into the market and discussed changes with key accounts in the Japan and the US and elsewhere. In the end, he decided that "when you don't take risks, you don't make great wines." He hired a new technical director and a general manager, Bernard Hervet. The shift was underway; he didn't rip up the manual entirely, he just did a total rewrite.
Describing the stylistic transition, Erwan says that his father prefers strength, where has he prefers more elegance making a comparison as shifting from Nuits-St-Georges to more Chambolle in style. His inspirations for the shift were the wines of Dujac, Domaine de la Romanée Conti, Domaine Henri Gouges, and Dominique Lafon. Erwan shelled out for a new vertical press at the winery, paid more attention to the wood for barrels, and purchased vineyards in the Cotes de Beaune, including two acres in Batard-Montrachet.
The results in the glass are terrific. The 2009 Bourgogne wines, made from mostly purchased grapes, are both solid examples of Burgundy under $20. The 2009 Clos des Myglands, a premier cru from Mercurey, offers good depth, acidity and a tannic structure that provides intrigue. The 2009 La Combe aux Moines, a premier cru from Gevrey Chambertin, climbs the scale in terms of quality showing a lot of richness, minerality on top of approachable tannins with a good does of come-hither fruits earthiness on the nose. The 2009 Corton Clos des Cortons Faiveley, a grand cru, is a terrifically rich wine that is not over-the-top, just concentrated with ample stuffing. Young as it is, my time with it in the glass showed an unfurling of aromas–spices, red fruits, plums and earthiness–and layers of complexity on the palate. It's pretty sexy stuff.
Although we tasted all 2009s, I asked Erwan which vintage he preferred, the 2009s, which have been derided by some contrarian-minded Burghounds as underwhelming in favor of the 2008s. He replied that while the 2008 was very classic and fresh, he preferred the 2009. In the vineyard, he said, there was so much perfect fruit in 2009 while in 2008, some selection had to be done. As to biodynamaics, he worked with only one grower who was biodynamic but he asked him to stop in 2010, citing the large amount of copper and silica used in the vineyard treatments.
Are more vineyard purchases in the offing? "I would love to purchase a vineyard in Chablis," he said. He has his eye on one site and every year he thinks it will be the year. But that might actually happen this year, he says, citing a January 31 change in the capital gains tax on real estate that may trigger sales. A developing story–just like the domaine.