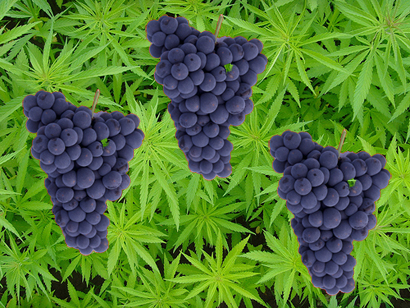 Gourmet, even though it's not even in print any more, obviously has been on different winery tours than I have! To wit:
In wine country, pot-infused wines are the open secrets that present themselves in unmarked bottles at the end of winemaker dinners and very VIP tours (it bears mentioning that most winemakers are cagey enough to keep the manufacture of such wines far from winery grounds). The wines range in style and intensity as broadly as "normal" wines and winemakers do. Some practitioners of the fruit-forward, higher-alcohol, New World style take a similarly aggressive approach to infusing wine. "I know a winemaker that takes a couple of barrels a year and puts a ton of weed in it and lets it steep, and that wine is just superpotent," says a James Beard Award–winning chef, who also asked not to be named. Henry, though, makes more classically styled wines, and with that reserve comes a more subtle hand with the cannabis. Adjusted for volume, "special" wines can range from under a pound of marijuana per 59-gallon barrel to over 4 pounds per barrel. The result is a spectrum ranging from a gentle, almost absinthe-like effect to something verging on oenological anesthetic.
Just reading this is giving me the munchies…what food pairs with marijuana wine (cuvée MJ?)–brownies?!? Where does this weedy wine fall on the natural-spoof wine scale? Marijuanipulated?
PS: has anyone heard of this? How widespread is it?