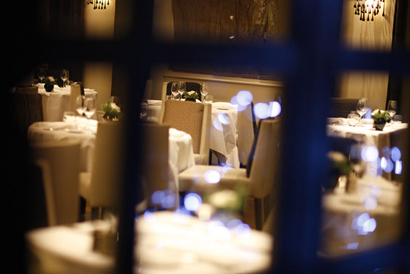 The London riots are simultaneously shocking and horrifying, so much so that the prime minister even came back from his Tuscan vacation to appear to address the issue.
The rioters moved on the Michelin two-star restaurant, The Ledbury, in Notting Hill yesterday. Blogger Louise Yang was there and describes the scene as looters wearing hoodies and masks smashed a plate glass window in the dining room, burst in, and stole her wedding and engagement rings right off her finger.
The kitchen staff scared off the looters, she writes, by brandishing rolling pins and fry baskets. The staff then tried to soothe nerves by offering everyone champagne and whisky. Stiff upper lip! When word spread that the looters were circling back to the restaurant, the staff told diners to go to the wine cellar and lock themselves in.
For stealing her rings, Yang wished the looters "a case of flaming diarrhea for the rest of your life."
Best wishes to the restaurant staff and diners as they try to put things back together. And, of course, to the country at this time of societal fracture. (ht: eater)