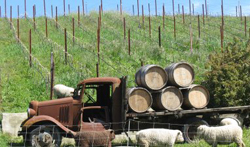 These muggy days in the high 90s have New Yorkers sweltering. So it's as good a day as any to wonder out loud how much of the wine we drink is at least partially heat-damaged, or, in wine geek vernacular, "cooked."
It's also been an extremely hot summer in much of Europe. Antonio Galloni considered the implications of this when at a domaine in Burgundy recently, as he saw an unrefrigerated truck hauling away wine bound for America via Dijon, a four-hour drive. Even if it joins a refrigerated container for trans-Atlantic travel, Galloni wrote on eBob, saying, "It doesn't take a genius to figure out that 4 hours in a truck at 100 degree temps means those wines will probably be cooked before they ever have a chance to oxidize, prematurely or not."
Fortunately, most conscientious importers do ship in refrigerated containers today. But some warehouses in the US and/or delivery trucks for the last few miles to shops and restaurants remain without temperature control, affecting foreign and domestic wines alike. While lower-priced wines tend to get less kid-glove treatment, when I tweeted about it yesterday, James Molesworth tweeted back that when he worked in retail, he saw grand cru Burgundy returned because the corks were pushed out from the heat. Daniel Posner of Grapes the Wine Company said he is not taking deliveries these hot days but added that many (but not all) wholesalers in NY are taking good care of their wines.
Are there solutions that could improve the situation for consumers?
For one, if critics purchased the wines they reviewed at retail stores instead of tasting at the winery, that would provide a strong incentive to tighten controls in the wine supply chain. But this has a snowball's chance in today's sweltering midtown of happening.
Another approach would be to have temperature sensors on bottles that showed at a glance the max/min range that the bottle had experienced. This could be a primitive strip or a tripped-out tag that included a temperature surge with a log of the trip to locate where the spike occurred. This is also unlikely to happen, but it could provide some transparency to consumers.
What do you think–how much wine outside the winery is cooked, if even a little? What can consumers do to avoid it? (I applaud retailers who will hold wine for free until cooler shipping weather arrives.) If you are a retailer or a sommelier, how prevalent is the lack of refrigerated delivery trucks–and what do you do about it?