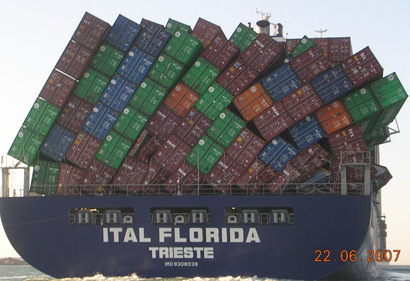 Heat damage might be the biggest silent killer in the wine industry–more even than corked wine, which has much greater renown.
In our recent discussion on "cooked" wine, Louise from eProvenance joined the discussion. Founded by Eric Vogt, a wine collector formerly of Boston Consulting Group, eProvenance can provide a detailed history of wine's temperature during transit via an RFID tag inserted into either a case or tacked on to a pallet of wine.
Tracking 1,450 shipments in and between the Northern and Southern hemispheres, they assembled a fascinating report: eProvenance found that almost 10 percent of shipments were exposed to temperatures of 30 degrees celsius (86 degrees Fahrenheit) or more for 18 hours or more, a threshold ETS Labs found as significant a perceptible damage in wine. The report generously does not declare all that wine to be "cooked," instead saying it is merely "at risk"; they suggest 2.8 percent of shipments as having perceptible damage.
Interestingly, some of the highest heat exposure comes not from the journey in the refrigerated container but rather the first and last miles of the journey, as the wine gets to and from the loading bays of wineries and shops. They estimate the monetary value of "at risk" wine to be about $9 billion and the heat-damaged wines to be worth about $2.5 billion.
While eProvenance clearly has an innovative technology to sell and thus may overstate the size of the problem, I am willing to go out on a limb and say that the quantity of heat-damaged wines represents a greater problem for wineries and consumers than counterfeiting. While the Jefferson bottles and their ilk may pose problems for the pinnacle of the wine world, heat-damage may be much farther reaching, especially as cheaper, high-volume wines are less likely to benefit from temperature control.
Heat damage, with its diminution of wine's aromas and freshness that leads to bad consumer experiences, could well be on par with or a greater problem than TCA, or "corked" wines. If I were a vintner, I would strongly consider adding temperature tracking to every delivery and take corrective measures if problems arose in the supply chain. As a consumer, I'd welcome heat shipping data or a third-party certification on each bottle. But then again, I like data–almost as much as I like sipping a glass of wine that isn't flawed.