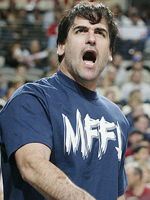 SIPPED: bling
Mark Cuban, the owner of the Dallas Mavericks, celebrated the team's NBA victory by ordering a $90,000 of Ace of Spades Champagne. No word on the exact size of the "huge" bottle, but I'm sure it was drained faster than you could say Salamanzar. While congratulations are in order for the Mavs' victory of the Heat, the mere idea of spending $90,000 on a bottle of nonvintage Champagne really does make one wonder if Cuban is trying to make the idea of a billionaires' tax seem like a worthy idea. Of note: he did leave a $20,000 tip. [MSN]
SIPPED: mo money
More Bordeaux 2010 prices have been released. Tim Atkin discusses one broker who said "enough is enough" when it came to Ruazan-Segla. And Mike Steinberger launches a discussion on why there's no outrage about high Burgundy prices.
SIPPED: white Burgundy, 2008 edition
The '08 white burgundies get some love from Eric Asimov. But, shh, don't tell anybody because then the remaining wines in the market will get hoovered up! [NYT]
SIPPED: lots of Woodbridge
Richard Sands, CEO of Constellation Brands (owner of Robert Mondavi among others) made $8.43 million in FY2011. Robert Sands, his brother and chairman, made $7.79 million. Did they pop any Ace of Spades? [ABC]
SIPPED: Dr. Vino
I'm giving a free, public talk next week at the New School about my book Wine Politics. And it even made the Times Dining calendar!