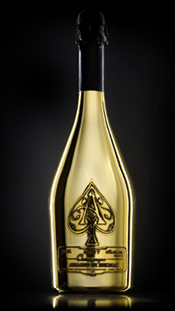 I'm getting married in 15 days and I want Ace Of Spades Champagne for my reception!
-via yahoo mail
Congratulations on your nuptials! Sadly if your wedding is in the US, the wine–formally known as Armand de Brignac–won't be here in time for your big day. According to the American importer, Sovereign Brands, a December launch is planned. But even then the wine will be in limited supply. (search to buy Ace of Spades Champagne online)
Via email the manager at Crush, the hipster wine shop in midtown Manhattan, told me they are 99% likely to carry the wine but do not have all the details sorted out yet. The wine may even be available directly from the importer according to their website.
If you're getting married in France you stand a chance of finding it. According to the WSJ, Michel Platini, French soccer legend, ordered 100 bottles of Cattier champagne for his son's wedding this month.
More details on the brand development:
"Jay-Z puts an Ace in play" [Dr. V]
My interactive map of NYC wine stores
UPDATE: An anonymous tipster has sent in this photo of Armand de Brignac as seen in New Jersey! It HAS hit our hallowed shores! I just guess you need some clout to get it.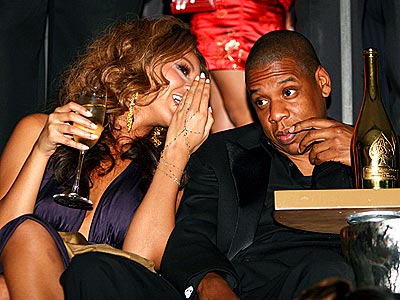 Beyonce and Jay-Z at his 40/40 club in Atlantic City.