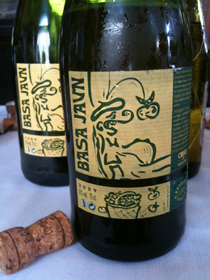 Cider is fascinating. In Botany of Desire, Michael Pollan tracks the history of the apple. It turns out that because the apples that proliferated in early 19th century America were tart or mushy, they were cultivated to provide fruit for cider, a fermented (read: alcoholic) drink. This is why Johnny Appleseed was welcomed so warmly in every cabin in Ohio and beyond, Pollan says, calling him "the American Dionysus," elaborating, "he was the guy bringing the booze."
I'll never be as into cider as I am into wine. But the diverse varieties of apples produce different juice–maybe there's also a terroir of cider? And it is a pity, as Pollan points out that many of diverse varieties of (cider) apples have been crowded out in favor of a few, sweet apple varieties such as Delicious.
Enter Basa Jaun cider, which I tried the other day at the distributor tasting for de Maison Selections. Made in the French Basque country, it comes from 15 different varieties including Ondo Motxa, Eri Sagarra, Anisa, Gordin Xuri, Minxuri, Azau sagarra, Eztirotxia, Geza Xuria, Mandoburua, and Patzulua–how bout them apples? It's really a fun drink, with apple-y notes (go figure), balanced between sweet and tart, with a faint sparkle and low in alcohol. I could see it working at a weekend lunch with some savory crepes (but who really has savory crepes at lunch in America?) or even chips and salsa. Oh, and Basajaun is apparently a hirsute, forest-dwelling protector of livestock, inron-worker and agricultural sensei in Basque legend.