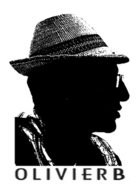 Facebook and Twitter may contribute to toppling regimes these days. But can social media save a winery from falling into the abyss?
A case study is unfolding in France. On January 1, a small wine producer going by the name of "Olivier B." announced on his web site that he was hanging it up. He makes a range of reds and whites from the Côtes du Ventoux appellation that sell for about 12 – 30 euros. He put a picture of his bottles in the shape of a cross, with the hat that adorns the labels of all his wines in the middle, and said it had been his cross to bear for the past few years and the dream was over. His love was lost, both the winery and his parter (simply, "elle") who said she could not support him any more in this venture. The warehouse where he made his wine was for sale and the bank wouldn't grant him a line of credit to buy it.
The French blogosphere then turned Olivier B. into a cause celebre for the misfortune of small vignerons. Many rallied to his cause (see a summary). Two bloggers organized a public tasting of his wines in Paris. The big breakthrough appears to have been when the Miss Glou Glou blog at lemonde chimed in. Then a local paper, La Provence, picked up his story. Then AFP ran a story. The media tsunami continued with TV channel Canal+ and radio stations from France, Belgium and Switzerland running stories. Traffic to his blog took off. But more importantly, sales started flowing, and he had 20,000 euros of sales in two weeks.
He wrote in a posting on his blog that making "Parkerized" wines was never his objective but during his deepest, darkest moments, he did think that if he got a 95-point score from Parker that all his problems would be solved. But now, he says, thanks to the blogosphere he has "hundreds of Parkers" to thank for the turnaround.
This fascinating story isn't over, of course. Check out Olivier's blog for the latest. One interesting aspect is that despite the apparent globalization of the internet, this story hasn't reached the English language blogosphere or media. Another is that the blogosphere rallied in an advocacy mode. Whether and how many times it could be repeated is an open question. But certainly Olivier B. is glad it has worked so well this time.