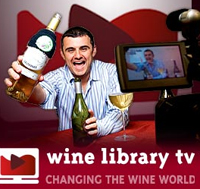 Wine Library TV has kicked the Jets bucket!
After 1,000 episodes of Wine Library TV (I had a good time with him on episode #771), Gary Vaynerchuk has decided to hang up his signature Jets bucket. Well, sort of. Many of his fans had wondered if one day Gary might leave the wine world entirely to jump to other, more lucrative pursuits such as public speaking, social media evangelism and promoting books from his 10-book deal with HarperCollins. Instead, he has started a new web site and app called the Daily Grape.
Even though he says that he has "retired" from WLTV, he's more of a wine critic than ever. Why? The fact is that even on WLTV, he was still the Director of Operations of Wine Library, the New Jersey wine store that his dad founded. Much of Gary's new media personality is built on how he harnessed the power of the internet to exponentially increase sales at the wine store. When I asked him on Twitter, he confirmed that he is no longer the Director of Operations at Wine Library. So now, it seems, he has only his own business to grow.
His new site, Daily Grape, owned by Daily Grape LLC, features shorter videos (seven minutes is the goal) and is optimized for the iPhone. A Jets bucket has yet to appear. Users can maintain a profile that includes wine they like from those featured on Gary's videos. The videos and app are free but he's charging $2 for a monthly newsletter. Hopefully, as a wine commentator, he can engage in pro-consumer activities and have an independent voice. The first signs on that are good since he handed out scores of 83 and 87 point scores for two Bordeaux (that I had never heard of), thus resisting the trend to only hand out scores 90 points and above. He also taped a show at a winery but refused to evaluate their wines on camera, saying he would feel awkward giving the wine a bad review.
Best of luck to Gary!