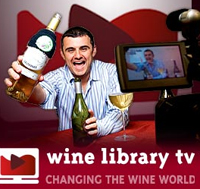 "You, with such a smaller part of me than you realize, we have changed the wine world."
That's how Gary Vaynerchuk concluded what he said was his final wine video. (He had previously announced stepping down from his position at Wine Library.) I was once a guest on Wine Library TV, aka the "Thunder Show," and the show had a fun run for five years. I wish Gary sunny skies in his future endeavors.
But what does Gary's departure mean for wine video? After five years of gaining lots of traction on WLTV, he has come to define the space, with his gonzo style and spitting into a Jets bucket. Wine and TV are a difficult blend to master. Gary had his own distinctive style. It will be interesting to see what others can do with wine video, from finding a business model that works to the style of entertainment.
Meanwhile, the Jets dump bucket has to go into a wine Hall of Fame.
"Totally Uncorked" [TIME]
"A wine guru for the YouTube era" [Slate]
"The Pour – This Wine Critic Can Drive People to Drink" [NYT]