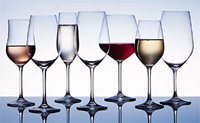 Advice columns this time of year frequently suggest wine gifts. Such columns often target the generalist reader who's not that into wine but is looking for a gift to give to a wine-loving friend or relative. Flipping this model on its head, here's what wine geeks need to give their friends and relatives who are marginally into wine: good stemware.
Yes, there's certainly a strong argument to give them a bottle of wine itself–we certainly need plenty of it at this time of year. But wine itself can be a hit or a miss and, either way, it's here today, empty tomorrow and, all too often, forgotten when the recycling bin is emptied. Certainly books have a tendency of sticking around longer and as the author of two wine books, I highly recommend giving the gift of wine books. A good corkscrew (such as pulltaps) is a nice touch, but really not essential since even the dreaded butterfly corkscrew can get the job done.
Thus, glasses. I think this even came up in the Bible: give a friend a bottle of wine, and you give him or her enjoyment for just one evening. But give him or her good stemware (or a good wine book for learning more about how to choose good wine!), and you will will elevate your friends' wine enjoyment for months if not years to come. Many are under $10 a stem. Riedel makes handsome stems but, in my experience, I have found them very easy to break. Ravenscroft also has solid stems, starting at $7.50 each. And the Tritan forte Schott-Zwiesel makes a titanium infused line of crystal glasses that really does reduce breakage. And, no, you don't need to give a different glass for each grape variety.
So go crazy and help your friends say cheers with style this holiday season with some good stemware, the best non-wine book gift that you can give to your friends and relatives who are getting into wine.