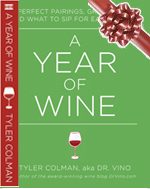 Are you wondering what to get your loved ones for the holidays? Why not get a personally inscribed copy of Dr. Vino's guide to A Year of Wine: Perfect Pairings, Great Buys, and What to Sip for Each Season. Packed with wine picks and hailed as "witty, lively and loaded with common sense" by the Chicago Tribune, this brand new, mint condition hardback can be yours for $20–lower than the list price!
Orders are fulfilled from the Dr. Vino world headquarters and signed by yours truly. Yes, mortgage documents may have been signed by robo-pen but these books will be signed by my own hand!
Books ship via Priority Mail to domestic addresses; shipping is included. (For international shipping, please inquire about postage.) Use Paypal to send $20 per book with the destination address and recipient name to tyler @ drvino dot com and your order will be ship the next business day. You can use all credit cards on Paypal and it is super easy. So don't delay for this personalized gift!
You saw the book on GMA. After the jump, see photos of illustrious people holding the book, blurbs, and a fuller description!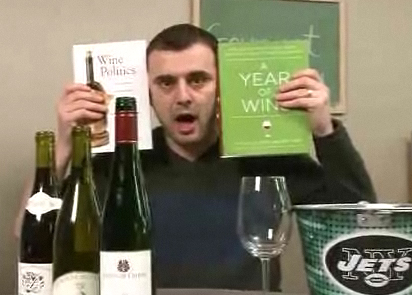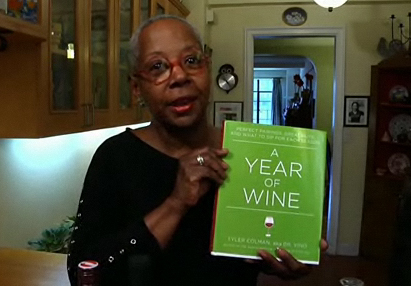 "Usually, I feel as though reading about wine instead of drinking it is a bit like going to the Playboy mansion bound, gagged and blindfolded. But that's never been the case for Tyler Colman's writing, whether it's his books or his blog. This is fun, inspiring stuff that'll make you excited about wine, not send you running, screaming from it."– Eric Arnold, author of First Big Crush: The Down and Dirty on Making Great Wine Down Under
"Here is an approach to wine sure to open a lot of people's eyes to a lot of pleasure. It replaces the numerical scoring system with some strongly flavored common sense. And it answers the question: what is the best way to enjoy wine."– Kermit Lynch, wine importer and author of Adventures on the Wine Route and Inspiring Thirst
"To me, nothing says 'summer' like a big, sweet, alcohol-rich glass of Amarone alongside a briny bowl of linguine and clams. I'm just kidding. That would be disgusting. This is Tyler Colman's point and it's a good one: Wine is all about place and context. Lots of books give you the 'whats' of wine, but this one gives you the 'whens,' 'wheres' and 'whys' as well."– David Lynch, co-author of Vino Italiano and The Wine Snob's Dictionary
"A Year of Wine offers a unique way to enjoy and appreciate wine. As a world traveler I will follow Tyler Colman's advice next time I'm enjoying the sunset on the Caribbean coast of my native Venezuela or looking at the beautiful red roofs of Florence, Italy. Choosing the perfect wine for a special occasion is like selecting the perfect pitch to hit an RBI double with men in scoring position." — Bobby Abreu, starting right fielder, New York Yankees
Product Description
A lively and informative guide to a year of wine enjoyment and appreciation from acclaimed wine expert and blogger Tyler Colman, aka "Dr. Vino"
In A Year of Wine, award-winning educator Tyler "Dr. Vino" Colman, whose wine blog was hailed by Food & Wine magazine as "one of the seven best," views winter, spring, summer, and fall through the glass of his favorite impact-resistant stemware, pairing each month with its perfect ports, Pinots, and bubblies — and offering good value recommendations for them all. Throughout, Colman reminds readers to try to pair their pours with context, which is wildly underrated when it comes to enjoying your favorite bottle. And while people tend naturally to drink lighter, more refreshing wines during the warm months and heavier, more serious wines during the winter months, Colman takes the seasonal approach a step further by offering innovative recommendations and enlightening facts that will allow readers to impress their friends for twelve months straight.
Is there a perfect wine to serve with chips and salsa on Super Bowl Sunday? Which bottles will help you drown away your tax- day blues without blowing your new budget? Colman answers these questions and much more as he pairs wines with each season, occasion, and moment. Recommending thoughtful and affordable wines for special celebrations and everyday enjoyment, offering tips on beginning a wine collection or spring cleaning the one you have, exploring how to drink with the smallest possible carbon footprint, and explaining how to maximize your wine experience when you dine out, Colman makes wine easy to understand and, most important, to savor.
Colman also shares the secret gems of his favorite wine tourism destinations — where to find the best wine shops in Paris, which Portuguese vintners still crush grapes with their bare feet, and how you can take a ten-tasting-room tour with one stop in a tiny Oregon town — and turns to some of the country's top sommeliers for their take on wine appreciation as well.
Perfect for both seasoned wine enthusiasts and oenophobes, A Year of Wine is an innovative approach that will encourage readers to drink outside the bottle.