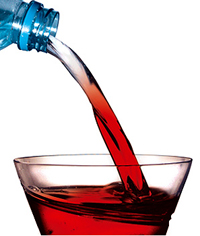 SIPPED: miracles?
FIJI water LLC, which recently shut down production in a showdown with Fiji's (military) government but then caved, will be turning their water profits into wine. In a merger of all caps, FIJI will be acquiring JUSTIN vineyard in Paso Robles. The FIJI CEO noted that JUSTIN has "fantastic products" and is "not a distressed asset." According to Bloomberg, the Resnicks, the billionaire owners of FIJI, are the biggest growers of citrus, pomegranate, almonds and pistachios in the U.S.
SIPPED: another round
Will the Supreme Court extend to wine retailers their previous decision that liberalized winery shipping? We may find out since the Specialty Wine Retailers' Association has appealed. [AFP]
SPIT: bubble pricing
An economist has some advice to wine collectors: Sell your Lafite. Now. [WSJ]
SIPPED: boats and dragons
And you thought our Cuvée 88888888 was brazen! File under: "How to succeed in China: get personal and put a boat or a dragon on your label." [decanter.com]
SIPPED: end of an era?
"I think we've just come out of 15 years of wine criticism where there was really only one point of view." SF mag tracks the evolution in California wine styles.
SPIT: inoculated discussion
If you've ever had a question about yeasts in wine, it's likely been discussed on this epic thread on Wine Disorder.