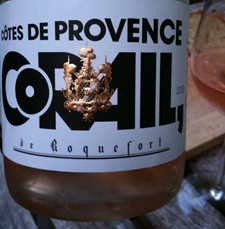 A couple of years ago, I had an op-ed in the NYT arguing for wine in a box. Since then, box wine sales have skyrocketed and many more selections, both foreign and domestic, have come on the market.
But one category that seems woefully underrepresented stateside is rosé. Given that it is perhaps the quintessential "here today, gone tomorrow" kind of wine, it seems particularly well-suited for the bag-in-box format. Fridges across France are stocked with box rosé in the summer; it's almost a summer rite to come in from a warm day and squeeze off a nice cold one (rosé, that is). And, it's clinically proven that having a box of rosé is also a great way to make friends with any passersby since it's always cold and is likely a tremendous value.
Last week I was on vacation and wished I had a box of rosé in the fridge. But I couldn't find one. Fortunately, we had some of the snappy Chateau de Roquefort, "Corail" 2009 from the Cotes de Provence. Maybe next summer, I'll be able to squeeze off a glass when I'm on vacation?