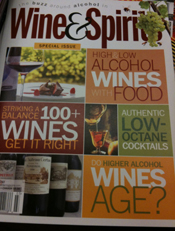 How often is the alcohol level stated on the label consistent with what is actually in the bottle?
Wines are allowed a certain fudge factor between what appears on the label and what is actually in the bottle. For wines under 14%, the wine can fluctuate by 1.5 percentage points, which explains why so many wines have traditionally been labeled 12.5% since that gave the maximum flexibility. Above 14%, the producer must pay a higher tax ($1.57 per gallon as opposed to $1.07 for the lower level) and the allowable wiggle room shrinks to one percentage point deviation from what's stated on the label.
I was curious how often consumers get what they think they are getting. To gain some idea, I oversaw the analysis of a random sampling of 80 wines from the offices of Wine & Spirits magazine, half foreign and half domestic wines. Although we treat the findings as anecdotal, it was interesting to note that half the wines we sampled were almost spot on the stated level, deviating only 0.3 percentage points from the stated level. However, a full ten percent of the wines tested were in the wrong tax bracket, that is to say, they were steering the consumer quite wrong as well as costing the Treasury revenue.
There's also a perception that wines north of 14% have become more prevalent. In order to determine the extent of this, I examined reports from the Treasury's TTB unit, which regulates the alcohol industry. Their data showed that wines over 14% alcohol comprised six percent of the still, bottled wines in America in 1995. By 2009, these higher alcohol wines had risen by 50% to account for nine percent of still, bottled wines.
The TTB is in the first year of a market compliance study, examining wines randomly sampled from the retail shelves around the country. The results of this study will be available next year. The TTB currently has 14 investigators nationally involved in enforcement and inspection; There are over 6,500 wineries now in the United States.
Be sure to check out the current issue of Wine & Spirits for my full story. The issue is entirely dedicated to "the buzz around alcohol" and has articles by David Schildknecht, Jamie Goode, Fiona Morrison and others.
UPDATE: The article is now available on the Wine & Spirits site.