SIPPED: running the numbers
With all the discussion about alcohol levels in wine, I'm pleased that the results of an extensive story I did for Wine & Spirits magazine is now online. (See our summary discussion.) In the story, we analyzed 84 randomly selected wines for alcohol levels and had some surprising findings.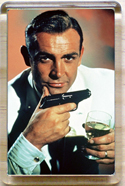 SIPPED: Stiff upper lip
Foreign diplomats can brace themselves for a general downgrading of wine at British official functions. The Foreign Office has decided to dump the claret in the 39,500-bottle cellar and fund future wine purchases from it. The cellar is valued at about £800,000 ($1.3 million). But the most important question: will James Bond's budget also be slashed from Angelus? [Guardian]
SIPPED: expense accounts
Sign o' the times: the British may be selling but the Chinese are buying. Even if they're not supposed to. Case(s) in point: officials at the state oil company, SINOPEC, splashed out $245,000 for bottle of Lafite and old Moutai. [WSJ]
SIPPED: judgment day?
Apparently the world is ending on May 21! Champagne and caviar tonight?
Drill, baby, drill! "Dentist Serves Beer and Wine to Anxious Patients" [NBC]